Ich lernte die Beiden an einem entspannten Juli-Tag kennen. Eine Weile lang beobachtete ich sie und war begeistert, wie sie miteinander umgingen. Ich wusste, die Zwei muss ich ansprechen. Als ich auf sie zukam, waren sie zunächst sehr überrascht – ihre Glücksgeschichte im Internet… Ich fragte ihn, wie lange sie verheiratet waren, woraufhin er zu mir meinte ich solle raten: Unglaublicherweise erriet ich die richtige Zahl. "Wenn Sie das schon wissen, dann müssen wir auch unsere Geschichte mit Ihnen teilen" entgegnete er mir. Es war eine unvergessliche Begegnung und ich freue mich diese besondere Geschichte mit euch in Form eines Dialogs teilen zu können. 
– JH
We first met a peaceful day in July. I observed them for a time and was impressed by how they treated one another. I knew that I just had to get to know them. When I approached them, they were initially very surprised, especially at the thought of having their happiness story on the internet… When I asked them how long they had been married, he insisted that I guess and incredibly, I divined the right number. "If you can already know that," he responded, "then we have to share our story with you." It was an unforgettable meeting and I am very happy to share this special story in the form of a dialogue with you. 
– JH
---
Seit über 50 Jahren verheiratet
"Um gemeinsam auf Dauer glücklich zu sein, ist ein kleines Geheimrezept für uns, immer offen und ehrlich zu sein und nie Geheimnisse voreinander zu haben. Und wenn man Kinder hat, genau das an sie weiterzugeben und sie so zu erziehen…"
Herrlich dieser See! Hier zu sitzen und die Seele baumeln zu lassen, was kann es besseres geben an so einem Sommertag?
P: Doro, setz doch bitte meinen Hut auf, wenn du in die Sonne gehst.
D: Wie gerne ich mich daran erinnere als wir uns damals am Baggersee kennenlernten…
P: Ja, das war immer eine sehr schöne Zeit… Aber das muss doch nun schon fast 60 Jahre her sein. Seitdem ist so viel passiert… Wie haben wir es nur geschafft, so lange glücklich und zufrieden miteinander zu sein? Komm setz dich doch zu mir.
D: Peter, ich glaube dazu war vor allem viel Fleiß nötig. Unsere Kinder und das Haus, da mussten wir uns einfach aufeinander verlassen können… Schon immer schätzte ich Deine Ehrlichkeit, Deinen Fleiß und Dein Interesse für Dein Umfeld…
Married for more than 50 years
"In order to permanently be happy together, one of our little secret recipes for happiness is being open, honest, and never keeping any secrets from each other. Also, when you have children, pass this directly down to them and educate them this way…"
This lake is so lovely! Just sitting here and finding inner space, could there be anything better on such a summer day?
P: Doro, please put on my hat when you are in the sun
D: How I love remembering how we got to know each other back then at the quarry pond…
P: Yes, it was always such an amazing time…Almost 60 years have passed since then. So much has happened… How did we accomplish being happy and pleased with each other for such a long time? Come, sit down by my side.
D: Peter, I think the most important thing was diligence. Our children, our house, we always had to rely on each other…I have always appreciated your honesty, your diligence and your interest in your environment…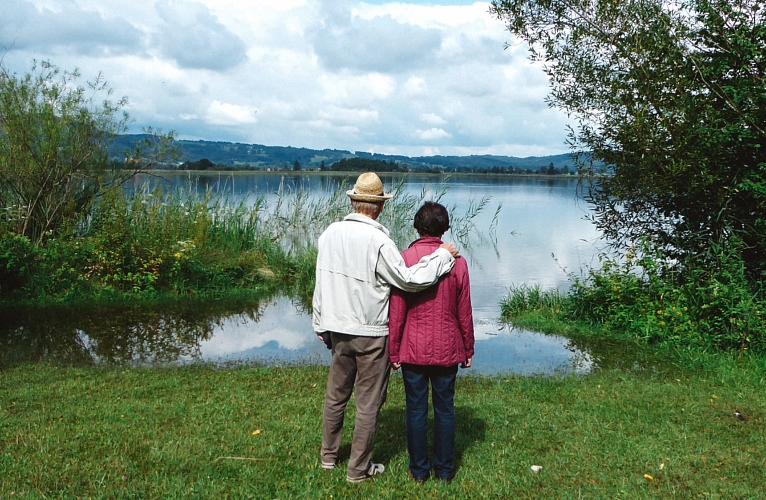 P: Doro, Du warst schon immer die Innenministerin und ich der Außenminister, gemeinsam stellten wir die kleine Regierung…
D:  Ja, unsere Ehe lebte nicht nur vom Fleiß allein…Es war die Ehrlichkeit, die wir über all die Jahre zueinander pflegten…
P: Und dabei mussten wir offen zueinander sein.. Ich glaube in einer Familie darf nichts verschwiegen werden. Meinst du das konnten wir an unsere Kinder weitergeben?
D: Ich denke schon, das war uns zumindest immer sehr wichtig
P: Manchmal kommen im Leben eben die Dinge wie man sie oft nicht erwartet… Dann ist es sogar gut, wenn ein Plan nicht aufgeht. Es wäre wahrscheinlich nie ein so schönes Haus entstanden, hätten wir damals gleich eine größere Wohnung gefunden…
D: Das war wirklich eine gute Entscheidung. Du konntest dich ja noch richtig ausleben mit den Umbauten an unserem Häuschen. Weißt Du Peter, das ist auch der Grund warum ich mich in Dich verliebt habe. Deine Neugier, und dass du immer wieder Neues entdeckst und ausprobierst, das hat mich beeindruckt. Auch heute höre ich Dir immer noch liebend gerne zu, wenn Du mir etwas berichtest.
P: Das macht mir eine große Freude. Dafür musstest Du aber häufig sehr geduldig mit mir sein.
D: Da hast du vollkommen recht, aber für einen Menschen den man liebt, geht man auch gerne so manche Kompromisse ein. Bevor Du dich hier aber verplapperst, lass uns noch gemeinsam die letzten Sonnenstrahlen genießen und heimradeln…
*Namen geändert
P: Doro, how should I say it differently: You as the minister of the interior, and I am the foreign minister, and together we built our own little government…
D: Yes our marriage was not only built up on diligence… It was honesty that we kept up through all the years….
P: And we had to be sincere to each other… I believe that in a family you should not withhold the truth. Did you think we could pass this on to our children?
D: I think so, this was always very important for us.
P: Sometimes things happen in life that you never expect… And sometimes it's good when a plan does not turn out as you had planned. For instance, we probably wouldn't have built such a beautiful house if we had found a bigger apartment too early on…
D: Yes this really was a good decision. You could truly live out your passion by rebuilding our little house. You know Peter, this was exactly the reason why I fell in love with you. Your curiosity and the way you always try new things quite impressed me. Also, I still always enjoy listening to all the stories that you tell me.
P: That really fills me with joy. You had to be patient with me so many times.
D: Yes that's right, but for a person that you sincerely love, you make compromises willingly. But now, before you start blabbing here again, come on, let's enjoy the last rays of sunshine together and then let´s cycle home…
*Names changed