Ist es nicht etwas Geniales Jemanden seit der Grundschule zu kennen und ihn nach vielen Jahren einfach so wieder zu treffen, weil man zeitweise in derselben Stadt lebt? Man fängt an sich wieder zu erinnern, wie es früher einmal war, aber auch zu sehen, wie man sich verändert und weiterentwickelt hat. Die Reise von uns beiden ging nun wieder weiter – andere Städte, neue Menschen und Erfahrungen, doch eines bleibt uns – diese wundervollen, gemeinsamen Erinnerungen an die ersten Schuljahre.
– JH
Isn't it something wonderful being able to meet up with someone you've known since elementary school because you both just happen to be temporarily living in the same city? You get to remember how things used to be and see how each other have changed and developed over time. Our individual journeys may have taken us to new cities and introduced us to new people and experiences, but one thing remains solid – those wonderful memories we shared during our first years of school.
– JH
---
Ich entscheide mich für das Glück!
Glück bedeutet für mich, das zu tun was mir Spaß macht und was mich weiterbringt. In meinem Fall ist das, immer kreativ sein zu können und vom Leben zu lernen. Fotografie ist für mich das beste Medium, die Welt besser kennenzulernen, mich mit interessanten Themen zu beschäftigen und inspirierende Leute kennenzulernen.
Klar wird es viele Momente geben, in denen es darum geht, seinen Lebensunterhalt zu verdienen und einfach einen bestmöglichen Job abzuliefern, auch wenn die Aufgabe nicht besonders spannend ist. Das Berufsziel des Fotografen stand schon während meiner Schulzeit fest, bis heute kann ich mir keinen anderen Beruf vorstellen und trotzdem versuche ich offen gegenüber anderen Wege zu bleiben. Design (mit Schwerpunkt Foto) an der Hochschule in München zu studieren, war eine der besten Entscheidungen, die Ich getroffen habe, denn ich habe gelernt, dass Fotografie selbst mit vielen anderen Kompetenzen zusammenhängt und man selber entscheiden muss, wie viel man aus dem Studium und dem Leben herausholen möchte.
I choose to be happy!
Happiness for me means having fun and learning from every experience. In my case, it is about being creative. Photography is the best medium for me to become better acquainted with the world, to deal with interesting topics, and to get to know inspiring people.
Sure, there will also be many times when we have to simply earn a living and do the best job possible even though the work is not particularly exciting. However, since my time at school, my goal has always been to become a photographer and still to this day I cannot imagine any other profession that would fit me better. Nevertheless, I always strive to be open-minded about new potential paths and opportunities. Studying design (in direction photo) at the University of Applied Sciences in Munich was one of the best decisions I made, because I learned that photography is connected to various other competencies and that you must decide personally how much you want to learn from studying and from real-life experience.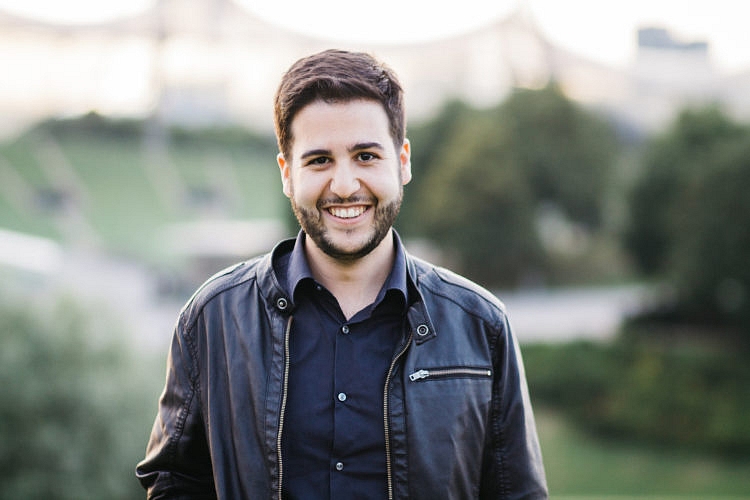 Wenn das Leben dir Zitronen gibt, mach Limonade draus
Ein zweiter wichtiger Faktor für Glück ist, es teilen zu können. Ich bin glücklich über meine tolle Beziehung, meine treuen Freunde und meine liebevolle Familie, die immer zu mir steht. Mit Ihnen das Leben teilen zu können, macht das Leben erst lebenswert. Große Momente aber auch kleine Momente, wie ein gemütliches Abendessen zu Hause oder ein Spaziergang in der Herbstsonne tragen schon viel dazu bei. Leider trifft einen das Schicksal manchmal ganz unerwartet, aber nur zusammen besteht man auch die schweren Zeiten. Wie heißt es so schön: "Wenn das Leben dir Zitronen gibt, mach Limonade draus."
When life gives you lemons, make lemonade
A second important factor for being happy is sharing. I'm happy that I have such a great love relationship, such loyal friends, and such a lovely family who always supports me. Sharing my life with them is what makes life liveable. It's not only the big moments I appreciate, but the small moments, like having a cozy dinner at home or walking through the autumn sun. These things really make the difference. Unfortunately, fate often hits us unexpectedly, but together with those we love it is possible to overcome difficult times. As the saying goes, "When life gives you lemons, make lemonade."
Willst Du noch mehr über Francesco erfahren? Gerade befindet er sich in im Auslandssemester in Edinburgh und berichtet in seinem wunderschönen Blog von seinen Erfahrungen. Schau einfach mal auf seine Seite.
Want to know more about Francesco? He's currently in Edinburgh for an exchange semester and shares his experiences in a beautiful blog. Take a look at his website.