An einem Ehemaligentreffen meiner Schule standen wir an einem wunderschönen Juli-Tag gemeinsam mit einer Gruppe von Menschen zusammen. Mir imponierte es, wie er über das Leben sprach. Während ich ihm zuhörte dachte ich mir: Dieser Mann müsste auch so Einiges über das Glück zu sagen haben. Und das hatte er auch. Nun freue ich mich diese Geschichte mit euch teilen zu können. 
– JH
On a beautiful day in July we stood together at a gathering of former students where we had the chance to hear him speak. I was particularly impressed by the way he spoke about life, and as I listened to him I thought to myself, "This man should probably be able to say a lot about happiness." And he truly did. Now I am very happy to share his story with you. 
– JH
---
Über Glück
Ich gehe auf die 70 zu, das meiste liegt hinter mir, also besteht die Glücksfrage darin, sich mit dem Erlebten positiv auseinander zu setzen und sich der eigenen Vergänglichkeit bewusst zu sein.
Mit "Glück" ist nicht der 6er im Lotto gemeint, sondern der Zustand, in dem es einigermaßen gelingt, die eigenen Wünsche und Möglichkeiten mit den umgebenden Lebensrealitäten in Einklang zu bringen.
Ich hatte das Glück, in den letzten Jahrzehnten unter sehr günstigen gesellschaftlichen Bedingungen zu leben. Hätte ich unter Krieg und Not leben müssen, sähe Vieles anders aus.
Was ist meine Leistung? Ich habe mich in allen Lebensbezügen eingebracht und angestrengt. Versucht, nicht nachtragend, besserwisserisch oder griesgrämig zu sein, mich an den kleinen Dingen zu erfreuen, wohlwissend, dass ich nicht für das Guinness-Buch der Rekorde tauge.
About happiness
I am approaching 70-years-old. Most of my life lays behind me so answering the question of happiness consists in embracing the positive and being conscious about how fleeting the own transience can sometimes be.
"Happiness" doesn't mean getting the six lucky numbers in the lotto. It's the state in which things somehow work out and in which wishes and possibilities turn into real life.
I have had the good fortune of living the past decades under very favorable social conditions. If I had had to live during the time of war and misery, a lot would have been different.
What is my performance? I have engaged myself and labored in all aspects of life. I try to not be resentful, smart alecky, or grumpy, and I love being delighted by the small things in life, knowing all too well that I am not good enough to make it into the Guiness Book of World Records.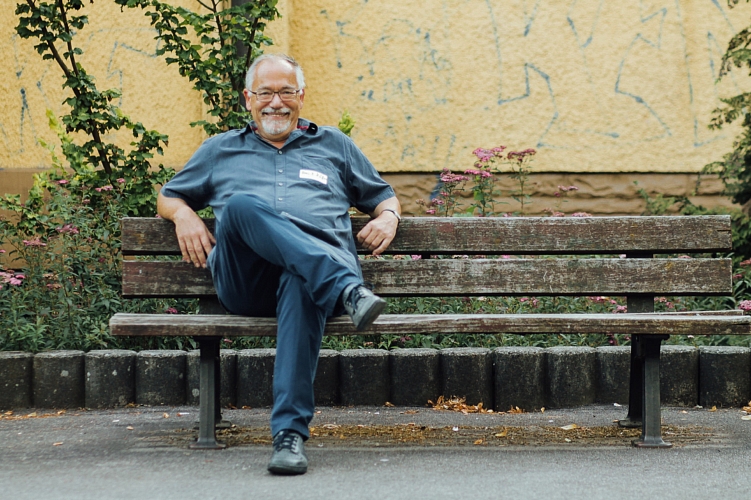 Ja nun, Glück, Zufall, eigenes Zutun?
– Mit 20 in Israel fast im Meer ertrinken und zugleich die spätere Frau kennenlernen.
– Als Kind feststellen, dass Schlangen gar nicht glitschig sind und in einem Schlangenzoo helfen.
– Beim mündlichen Staatsexamen den Professor im Aufzug treffen, einfach zu sagen, was man gar nicht beherrscht, und der hält sich dran.
– Mit meinem Enkel endlich wieder einen zu haben, mit dem ich die alte Modelleisenbahn bauen kann.
– Auf einem Ehemaligentreffen viele freudig wiederzusehen, sogar eine Glücksforscherin
– Kinder zu haben, die sich stets sorgen, wenn's den Alten zwickt.
– Sicher zu wissen, dass der VfB Stuttgart wieder aufsteigt.
– Ungern in die Kleinstadt Nagold ziehen und merken, dass das gar nicht schlecht ist.
– Feststellen, dass mit 66 ein E-Bike gar nicht peinlich ist und dieses jeden Berg und jeden Wind schlägt.
– Im eingemauerten Westberlin studieren und von diesem Extrem fürs Leben lernen.
– Sehen, wie die Jungen arbeiten und meine Pension erwirtschaften.
– Im Urlaub feststellen, dass die Bratwurst auf dem Marktplatz auch schon eine halbe Stunde nach dem Frühstück schmeckt.
– Den Star meiner Jugend, Beatle Paul McCartney, 50 Jahre später live zu hören.
– Im Schach endlich öfters gegen den alten Kumpel gewinnen.
UND UND UND…
Lebt positiv!
* Name geändert
Yes now, happiness, coincidence, own assistance?
– Being as a 20 year old in Israel almost drowning in the sea and at the same time getting to meet my wife.
– Noticing as a child that snakes aren't slimy and getting to help out in a snake zoo.
– During the state exam, meeting a professor in the elevator and simply telling him what I didn't dominate and he sticks to it.
– Finally having a grandson with whom I can build a model train.
– Seeing everyone feel joyful at a gathering of former students and even meeting a happiness researcher
– Having children who always care when the older folk is feeling under the weather.
– Being sure that the VfB Stuttgart will advance again to the next league.
– At first being unwillingly to move to the little town Nagold, and then realizing it's not that bad.
– Realizing that an E-bike isn't embarrassing at 66 and being able to take on every mountain with the wind in my face.
– Studying in the walled-in area of Westberlin and learning from this extreme time of life.
– Seeing how the young work that I receive my pension.
– Noticing on vacation that the sausage at the market place even tastes good half an hour after breakfast.
– Having Paul McCartney from the Beatles as the star of my youth and then 50 years later getting to listen to him live.
– Finally defeating an old buddy in chess more often.
AND AND AND…
Live positively!
* Name changed