Wenn du jemals die Möglichkeit hattest Melanie zu treffen, durftest du ihre grundzufriedene Art kennenlernen. Sie weiß wohin sie will und was ihr guttut. Sie war eine der Ersten, die von diesem Glücksprojekt erfuhr und teilte bereits bei dem Treffen einige schöne Momente mit mir, die Glück für sie ausmachten und mich motivierten von mehr Personen zu erfahren, was dieses Thema für sie bedeutet. Von Meli können wir lernen, dass es oft die kleinen Dinge im Leben sind, die einen glücklich machen und das Leben vereinfachen.  
– JH
If you ever had the chance to meet Melanie, you would easily be able to recognize that for her, being content is a fundamental part of her nature. She knows where she wants to go and what makes her feel well. She was one of the first people to find out about the happiness project and share her beautiful moments with me, which motivated me to search out what happiness means to more people. From Meli, we can learn that often the little things in life are the ones that simplify life and make us the happiest.  
– JH
---
Es gibt viele bestimmte Momente in meiner Vergangenheit, die für mich der Inbegriff von Glück sind. Was mir zuerst in den Sinn kommt und für mich definitiv zwei direkte Wege zum Glück sind, ist Zeit mit Freunden zu verbringen oder zu reisen. Wenn ich in einer internationalen Metropole bin, bekomm ich dieses besondere Gefühl der Begeisterung, weil ich die Möglichkeit hab so einzigartige Orte zu entdecken und neue, glückliche Erinnerungen zu sammeln.
Sogar wenn ich durch München laufe, wo ich seit inzwischen 3 Jahren wohne, erleb ich immer wieder so einen besonderen Moment des puren Glückes. Wenn ich an meinem Lieblingsplatz dem Königsplatz vorbeikomme oder die Ludwigstraße entlanglaufe, wird mir immer wieder bewusst, für wie viele Erlebnisse und Erfahrungen in den letzten Jahren ich dankbar sein kann.
There are a lot of specific moments in my past that define happiness for me. What first comes to mind and what are definitely two of my straight shots to happiness is spending time with friends and traveling. When I am in an international metropolis, I begin to feel this sensation of enthusiasm because I am faced with the possibility of getting to know unique places and collect new, happy moments.
Even when I am walking through Munich, where I have been living for three years, I regularly experience these small, yet exceptional, moments of pure happiness. When I pass my favorite spot, the Königsplatz, or when I walk along the Ludwigstraße, I often become aware of all the experiences over the past years for which I am truly thankful.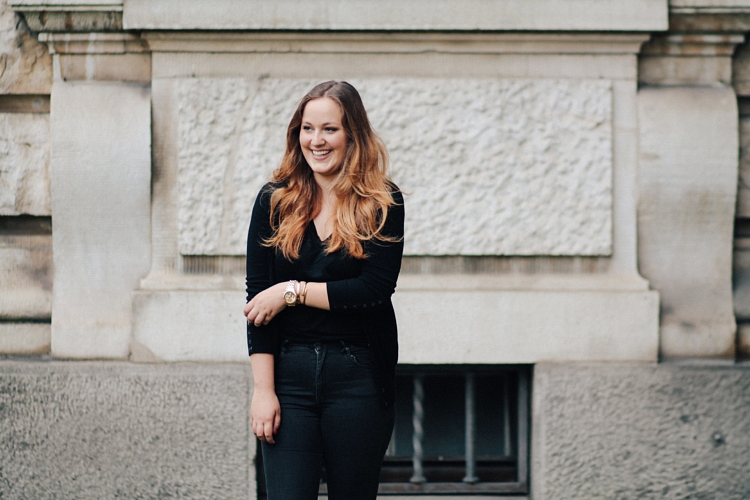 In vielen glücklichen Momenten sind Freunde an meiner Seite, mit denen ich mein Leben teilen kann. Das sind diese besonderen Menschen, bei denen ich einfach alle Sorgen und Gedanken an Uni, Prüfungen oder die Zukunft vergessen kann. Das ist pures Glück für mich. Glück ist für mich, mein Leben in jedem Moment zu lieben, egal wie die Umstände auch gerade sein mögen und auch wenn manches nicht so läuft, wie ich es mir vorgestellt hab.
Ich bin davon überzeugt, dass Gott einen Plan für mich und mein Leben hat und deswegen alles einen Sinn hat. Diese Perspektive motiviert mich glücklich zu sein, egal was ich gerade erlebe. Anstatt traurig oder unzufrieden zu sein, will ich mich immer wieder dafür entscheiden dankbar zu sein – und dann folgt das Glücksgefühl oft automatisch.
In many of my happy moments, I am with my friends with whom I can share my life. They are special people and when I am with them I can forget all my sorrows and thoughts concerning university, exams, or the future. This is pure happiness for me. However, happiness also means loving my life in every moment, no matter what the circumstances might be, and regardless of whether some things work out as I imagined.
I am convinced that God has made up a plan for me and my life and that everything has a purpose. This point of view motivates me to be happy, no matter what I am experiencing at any given point in time. Instead of being sad or unhappy, I consistently decide to be thankful – and then the feeling of happiness often comes automatically.